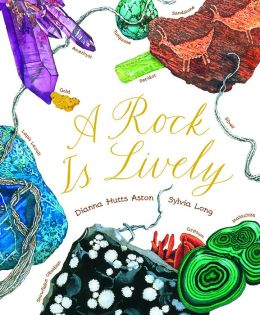 A Rock is Lively is the newest nonfiction offering from the author and illustrator duo of Dianna Hutts Aston and Sylvia Long (Chronicle Books, 2012). Their book titles always present an object from nature with an unusual adjective. The creative title makes a reader curious about why such a title was chosen to go with that topic.
With this book, the author describes a rock as "lively." Most students would not think to describe a rock in this manner because it is not living and obviously doesn't move by itself. :) However, once students journey into the book, the author's purpose for calling a rock lively is made clear. Aston describes how rocks can explode from volcanoes and change over time in many ways in the Earth's crust. Aston and Lang's nonfiction books are written in a conversational narrative format, and this technique always breathes fresh air into an otherwise common science topic.
Suggestions for Instructional Use:
The writing trait of word choice can be exemplified through not only the text, but the unusual statement that serves as the title. Rocks are not thought of as living, independently moving things full of life, and this unique beginning grabs a reader's curiosity.

The teacher should ask the students why they think that the author chose to write this specific title with the combination of word chosen for impact. If children are independent enough, they could record their predictions and wonderings on paper or in a writer's notebook. Then, as the teacher reads aloud, children would be asked to periodically update their reasons and support their new thinking with evidence from the text. At the end, children would verbally explain or jot their final summation of why the author chose the title. Children could also write interesting facts that they learned about rocks down in their writer's notebook or they could help jot the facts after a discussion on a class graphic organizer or Thinking Map. A K-W-L chart could be one type of graphic organizer that could be used for this purpose.
There are specific labels of various rocks represented in the book, which makes it an example of labeling as an important nonfiction text feature. A document camera could be used in order to enlarge illustrations and text features which would help to bring attention to the detail and impact of the pictures. This book can be a fabulous source of inspiration for nonfiction writers creating their own research project on rocks or other relevant science topic. The writing traits of sentence fluency and word choice are also exemplified with Aston's writing style. Also, the writing traits of a distinctive presentation and fluid organization could also be highlighted with this book in partnership with other Aston/Long titles.
Companion Book Suggestions:
There are three previous titles from the author/illustrator duo of Aston and Lang. They would make for a great author/illustrator study!
An Egg is Quiet (Chronicle, 2006)
A Seed is Sleepy (Chronicle, 2007)
A Butterfly is Patient (Chronicle, 2011)
A full listing of books written by Dianna Hutts Aston is available on her author website.
Also, a full list of books illustrated by Sylvia Long is available on her own website, too.
Chronicle Books has posted a large sample of the text for A Butterfly is Patient. You can review the 13 page sample straight from the computer for educational or home use. Click here to go directly to the Chronicle Books Scribd site. You can also explore an large online preview of A Seed is Sleepy through Google Books.
Lesson Idea:
A Rock is Lively can be used as a mentor text for a writing lesson that highlights the trait of ideas. After an interactive read aloud of the story, go on a trek outdoors for a specimen from nature that a child can use for a creative scientific investigation. The object could be a rock or it could be something new like a flower, leaf, twig, or anything that is okay to take inside for observation. If you had access to a collection of rock samples at school and wanted to tie in a study on rocks and minerals, you could definitely take the lesson to an interdisciplinary level that way! Magnifying glasses can even be use to emphasize how the children are figuratively "zooming in" on their topic.
Students would then either use the brainstorming and partner feedback to create a poem or a paragraph where they carefully and creatively selected their words. This would support the application of the trait of word choice because students would think of unusual ways to describe the item. The writing piece that children create after brainstorming about the object could also be shared in a way where other students would have to guess what the object is. Published pieces could be written or typed up with fabulously scientific diagrams. The item could be displayed with the publishing in a class or hallway museum. The options are endless with what direction you choose to take with the lesson!
Here is a two page freebie document that can be downloaded through Google Docs by clicking here. I've left the mentor text area blank so it can be used for other texts as well. Model the use of this sheet and discussions with a student or a another teacher. It fosters an interactive classroom community and gives students an authentic audience that will inspire them to give this a try. Have fun with it and be creative with your word choice! :)